The Herbal House scheme is a refurbishment of what was once the Daily Mirror's headquarters. The original building was built in 1928 and when the current alteration works are complete will comprise new office space and residential accommodation. The building is constructed of a steel frame encased in concrete. The area below ground consists of two large floor that required extensive repair and waterproofing.
With a contract sum in excess of £1M this is to date the largest contract undertaken by the company. However, it demonstrates that Barker Morris Ltd is perfectly capable of undertaking such large works under a standard form contract, working for a national main contractor on a major project.
The following photos show the various processes employed by Barker Morris for one particular section of the below ground works.

Preparing for concrete repair works.

Repair works complete and spray application of Koster NB1.

Application of two Aquachem coats to floors.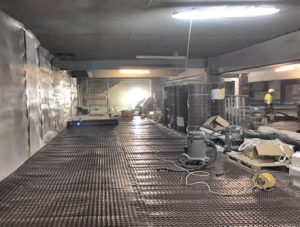 Installing Delta membrane to walls and floors
Barker Morris were employed by the main contractor (McLaren Construction) to cut out and repair the defective concrete and to design and waterproof the structure with a new dual system to floors and walls in compliance with the appropriate British Standards. The limited access presented many logistical challenges for the team and which were successfully overcome during the 18 month construction period for this element of the works.